Angel Hostel is situated in the ver centre of Old Town of Toruń (30m from the famous Copernicus House),in the vicinity of tourist attractions, historic buidlings, shops, restaurants, clubs and coffee shops.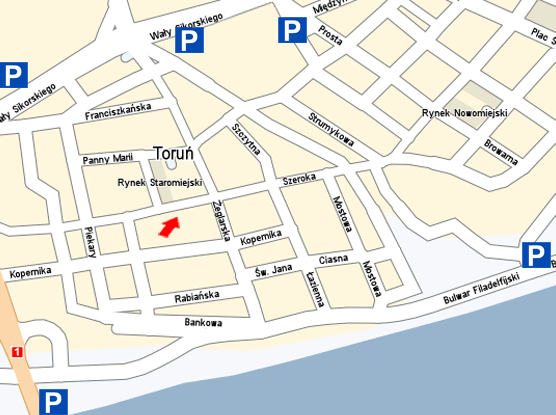 ACCESS WITH PUBLIC MAINS OD TRANSPORT
Access from the main train station (Dworzec PKP "Toruń Główny") - take bus nr 22 or 27. Hop off on the second bus stop (just after crossing the bridge), then go straight through (instantly visible) Ceasar's Arch and straight for another 200m, hostel will be on your right.
From bus terminal (Dworzec PKS "Toruń") to the hostel is about 20 minutes away by foot. Please go through the streets: Uniwersytecka, Wały Gen. Sikorskiego, Chełmińska straight to the Old Town Market (Rynek Staromiejski).
ACCESS WITH OWN CAR / PARKING OPTIONS
We regret but the most of the nearest neighbouring streets are closed to traffic and parking. The closest street with publicly available parking spaces is ul. Piekary street and also ul. Rabiańska street and ul. Św. Jana street (around 200m from hostel).
PARKING
In the nearest vicinity there are several secure carparks:
300m from our hostel, along Wały gen. Sikorskiego street, near Civic Centre - street level, guarded
300m from our hostel, by the Vistula river under the Piłsudski's Bridge (road bridge) - street level, guarded
400m from our hostel, along Wały gen. Sikorskiego street in the famous Centre of Modern Arts - underground, monitored
500m from our hostel, along Wola Zamkowa 2 street, vicinity of Teutonic Knights Castle - street level
500m from our hostel, by Dominikańska 9 street - street level, secured in "Nowy Arsenał" premises